Ultra HD perfect picture quality, exclusive visual feast
High resolution brings delicate display effect, and it is a perfect embodiment of the new generation of ultra-high-definition LED display technology.
---

Advanced design with originality
Unique in the industry, it perfectly integrates the concepts of bionics, design aesthetics and ergonomics. Taking Absen mascot little bee as the structural prototype, it is a perfect product with beautiful line.
---
Low brightness with high gray level, more delicate display performance
Adopt high-quality LED blackbody SMD lamp with black mask, the contrast ratio is up to 3600: 1, and the picture is clearer and vivider;
---
Easy realization of Full HD and 4K big screen effect
Display screen can be spliced into any size and any direction, multi-standard video formats are available, easily realize Full HD and 4K video effect; screen performance is unique.
---
Modular cables free design, plug-and-play power supply
It innovates in designing the power supply and cables as a module, plug and play.
Connecting piece is shrapnel-type connector of military level, with the speed increased by 10 times compared with the traditional pin header/female header connector, simple, fast and efficient.
---
 
Multifunctional connecting piece, fast, simple and convenient
Intelligent connecting piece integrates many functions together, such as connection and fine adjustment of gaps, all for the convenience of customers.
Patent number of connecting piece: CN201110077471.9, A1.2 has been insured "Product liability insurance", underwritten by CPIC globally.
---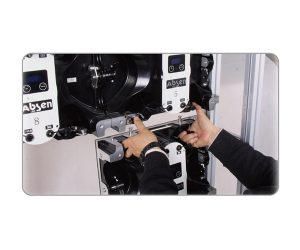 Seamless splicing and installation type to assemble screen freely
Patented connecting piece, and hang pin rotating at 120 degree to lock the case, and gap adjustable to ensure the seamless screen, and rapid installation and removal supported. Only 1/4 of installation time compares with traditional structure.
---

User-friendly LED information window
LCD window able to real-time display operating condition (voltage, operating item, version number, screen temperature), built-out test key to detect the illumination of the display screen, and change of red, green, blue, white and other scene for testing
---
Pixel-by-pixel calibration to ensure consistency
Industrially advanced spectral radiance meter CS-2000 which has luminance and chromaticity accuracy which are 30 times industrial level, and is used for calibrating the luminance and chromaticity of each LED lamp to achieve more than 99% highly unified consistency;
---
High contrast and high image quality
High quality LED lamp with black body structure and black lamp mask to provide 3000:1 contrast and clearer and more bright-colored image
---
160° Large viewing angle
1010 black lamp with optically trap lampshade to provide significant optical effect.
---
Micro inner arc design to provide broader viewing angle
Floor type support to be assembled by adjustment of different angle according to site requirement and supporting up to 10 degree inner arc